The
Palestinian Economic Bulletin
is published monthly by Portland.
This authoritative guide to the Palestinian economy, prepared by MAS, the leading economic research institute in the field, is used by business, academic, financial and economic development institutions around the world, provides a snapshot of GDP and economic activity, employment, public finances and aid, inflation, banking, trade, tech, tourism and other sectors and the performance of the Palestinian stock market and leading Palestinian companies.
On 29 August, an International Monetary Fund (IMF) staff team concluded a two week visit to the West Bank and Gaza to assess recent economic developments On 3 August, thte Minister of Finance, Shukri Bishara noted that the PNA financial reform plan aims
Read More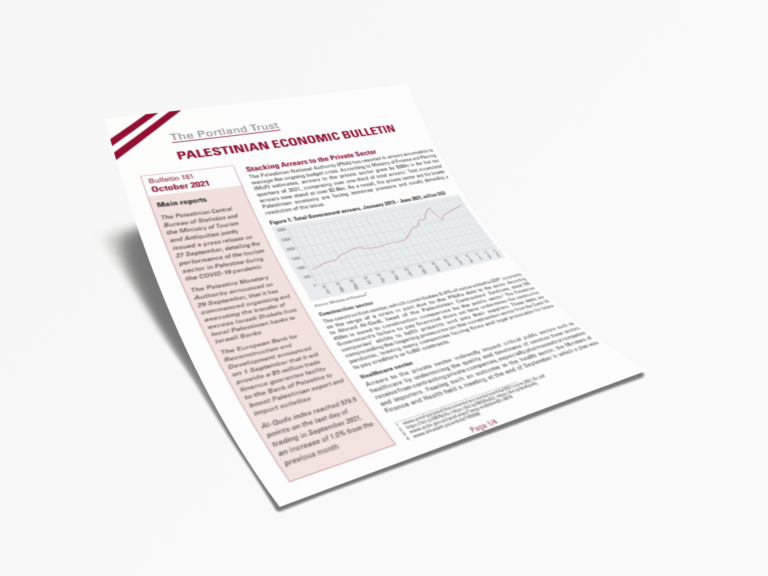 Don't miss a new edition!
Sign up now and get a free report each month.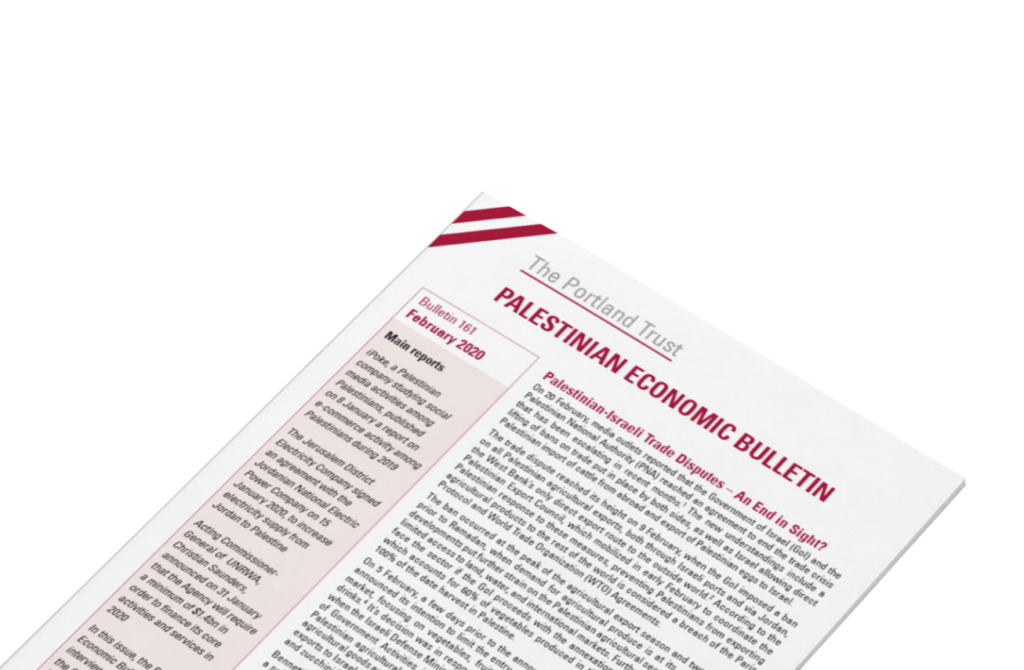 On 29 August, an International Monetary Fund (IMF) staff team concluded a two week visit
Read More
The agricultural sector has a strategic role in achieving food security and generating employment in
Read More
On 31 March, the Palestinian President, Mahmoud Abbas, approved the public budget for the 2022
Read More
On 9 February, the World Bank published its assessment of the Palestinian digital economy. In
Read More
On 17 January 2022, the Palestinian Council of Ministers established a special unit to manage
Read More
On 30 December 2021, a draft of the new companies' law was published in the Palestinian
Read More
As Palestinians lit the Christmas tree outside Bethlehem's Church of the Nativity on 4 December,
Read More
On 3 November, the EU provided $18.8m to help the PNA pay October's salaries and
Read More
The Palestinian National Authority (PNA) has resorted to arrears accumulation to manage the ongoing budget
Read More