The
Palestinian Economic Bulletin
is published monthly by Portland.
This authoritative guide to the Palestinian economy, prepared by MAS, the leading economic research institute in the field, is used by business, academic, financial and economic development institutions around the world, provides a snapshot of GDP and economic activity, employment, public finances and aid, inflation, banking, trade, tech, tourism and other sectors and the performance of the Palestinian stock market and leading Palestinian companies.
On 3 May, the Ad Hoc Liaison Committee (AHLC) met in Brussels to track progress made since September 2022 to support individuals, multilateral and international efforts to improve economic and institutional conditions in Palestine Deployment of the fibre optics network continued in 2022,
Read More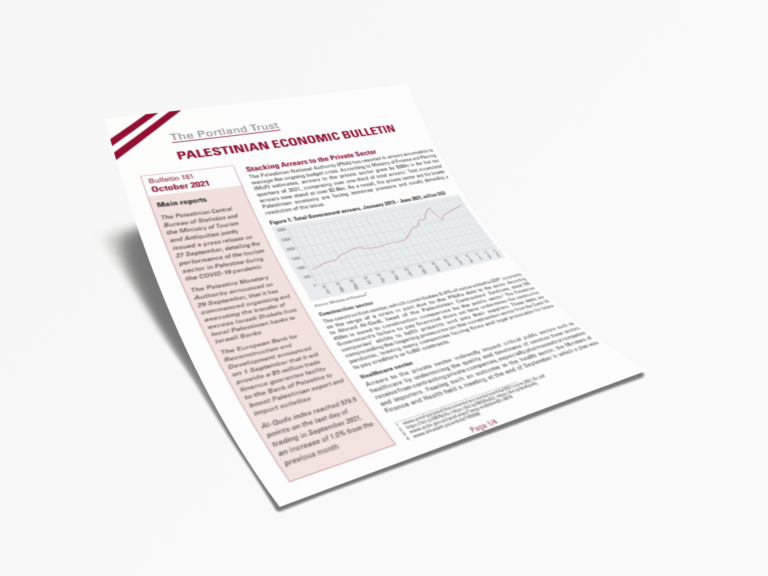 Don't miss a new edition!
Sign up now and get a free report each month.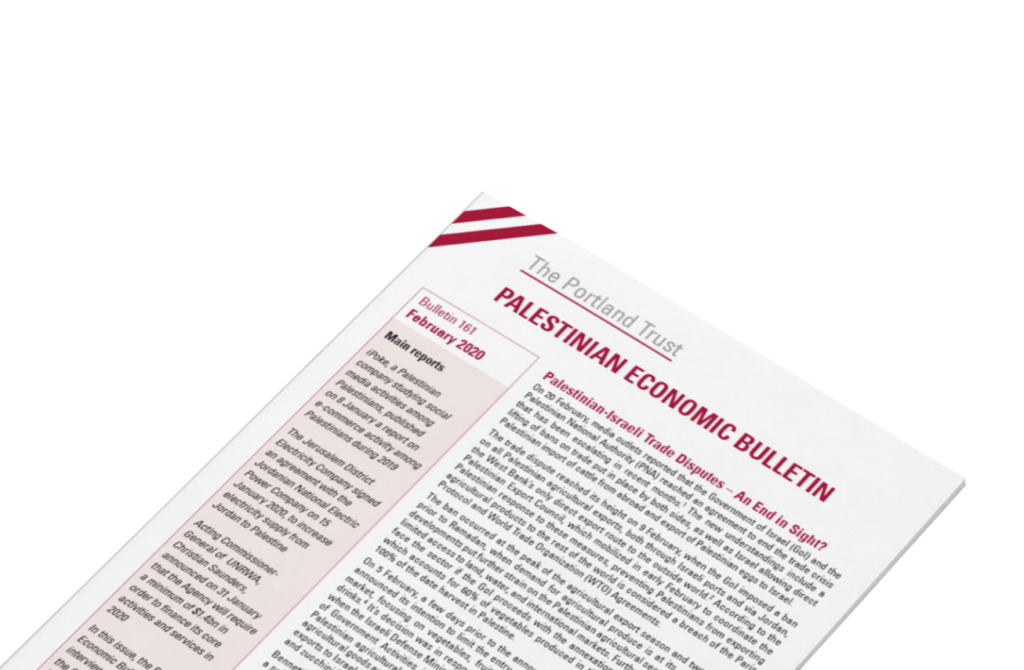 On 28 March, the Palestinian Ministry of National Economy (MoNE) announced the launch of the
Read More
On 12 February, the Arab Bank and the Palestinian Telecommunications Group (PALTEL) jointly launched the
Read More
On 2 January, the Palestine Monetary Authority (PMA) issued new instructions regarding bank fees and
Read More
Palestine witnessed limited economic recovery in 2022, while facing record inflation of 3.8%, the highest
Read More
Almost three years after the pandemic temporarily closed down the Palestinian tourism sector, over 100,000
Read More
In October, thousands of Palestinian families tended to their olive groves during theolive picking season.
Read More
On 22 September, the twice-yearly Ad Hoc Liaison Committee (AHLC) met in New York to
Read More
On 29 August, an International Monetary Fund (IMF) staff team concluded a two week visit
Read More
The agricultural sector has a strategic role in achieving food security and generating employment in
Read More